So I spent this weekend down at Virginia Tech with my friend Katherine, and couldn't help notice the giant sinkhole-in-waiting in the middle of campus.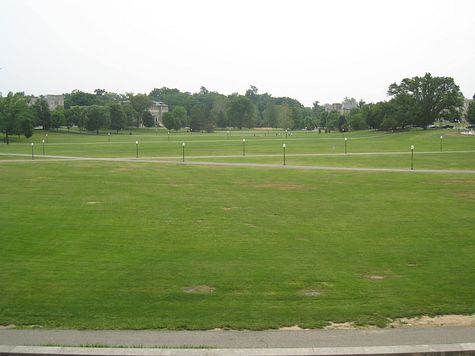 They call it the 'Drill Field'. Probably because if you drilled into the ground, water would come up in a geyser and turn the whole place into a swimming pool.
All college campuses find it necessary to include a big giant green space in the middle of campus. Cornell has four such quads--Ag, Biotech, Arts, and Engineering, so a biomechanical engineer could have four separate patches of grass to call their own. Even MIT has a quad, and they've go so little space in the middle of Boston that the integral of its size is a negative number. What is the purpose of this mysterious green space? This week, I'll present several of the leading theories (that I made up myself)
Alien Landing Pads
If The History Channel is to be believed, half the world's governments are controlled by aliens from other planets (as opposed to the many governments which in reality are controlled by aliens from Earth).
Meme guy!
Modern rocket planes, like the ones that take people on those really expensive space tourism things, need landing strips to go up and down. But advanced alien flying saucers just need a big field they can hover onto. In
The Day the Earth Stood Still
(not the version with Neo)
,
the most impressive work of alien technology is the locator beam that managed to find an open field in the middle of Washington, D.C. (And no, the Mall doesn't count, because it's always crowded with squishy humans).
College campuses are supposed to be centers for research and discovery. And what bigger discovery could be made than the existence of extraterrestrial life? Campuses all over the world must be secretly competing for the honor of being the first landing spaces for UFOs. No wonder you see flying-saucer shaped dishes flying across campus quads all spring--it's meant to be a signal for the little green men to drop out of the sky and provide their Alma Maters with billion dollar donations. Students will someday study astronomy in Galzzaxceef Hall. (Alternatively, wouldn't this make a brilliant sci-fi comedy idea?)
Bored City Planners
According to my father, no one ever considered city planning a thing until the release of
SimCity.
Whether that's true or not, one thing's for sure--city planners are only human (ignoring the alien theory from above). Universities are supposed to be aesthetically pleasing
Bored city planners
Campus president's pretentious poodle needed a toilet of its own
Squirrel conspiracy to hide acorns
A prophecy that ultimate frissbee would be a thing one day--The Ultimate Prophecy.